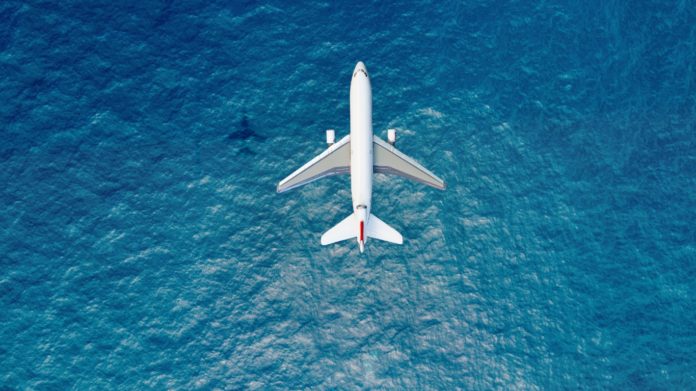 Landing the best price on a plane ticket can be tricky. Prices change constantly, and there's no definitive way to guarantee you're paying the lowest price out there. But there are methods that can increase your chances of finding deals or at least avoiding paying more than you should.
Because the price of plane tickets rise and fall roughly on a weekly basis over a period of months, there's a certain amount of luck involved, too.  24/7 Tempo compiled a list using various travel publications and data of 14 methods that can get you cheaper tickets. You may need them especially if you're planning to book a flight to a famous destination — these are the most popular international flights in the world.
Some touted methods for finding cheap plane tickets are questionable. For example, some travel writers recommend buying tickets on Tuesday after airlines adjust their prices following a post-weekend analysis of sales data, but data collected in recent years and as reported by Bloomberg in 2017 suggests that rule is a myth.
Another commonly cited but debunked claim is that you'll find better deals if you use your browser's incognito mode, which hides your browsing history from the prying algorithms of online shopping sites that could use your data to manipulate prices. But according to a 2017 report in Travel + Leisure magazine, there's no difference in the ticket prices displayed by browsing anonymously compared to browsing with cookies enabled.  
Some general rules apply to cheaper air travel. If possible, avoiding peak holiday and summer travel seasons is a good rule of thumb; don't pick popular daytime departure and arrival times is another. But there are granular methods for whittling down airfares that largely depend on how much time you're willing to commit to doing your online research. 
24/7 Tempo looked at information provided by reputable industry groups and travel publications and data from airline-booking search engines to come up with a list of methods for finding the best deals on plane tickets and to root out misconceptions. Not all methods may work all of the time, but deploying as many of these as possible in your search for the best deals should increase your chances of paying the lowest prices.
Book flights on the weekends
You'll often hear that Tuesday is the best day to shop online for plane tickets because that's when airlines reportedly adjust post-weekend prices. But data released in 2017 by aviation insights company Hopper, which tracks and predicts fares, said at best the average savings are $18 on less than 2 percent of U.S. domestic flights if you book immediately after the carriers adjust prices. A report last year from Airlines Reporting Corporation says the weekend, especially Sunday, is the best time to book a flight to get the lowest average ticket price.
Avoid flying on Sunday or Monday
You often hear that the lowest fares are for flights on Tuesdays and Wednesdays. Other sources recommend starting your trip on Thursday or Friday. Some travel sites also claim Saturday is a good day to fly because travelers tend to book return flights on Sundays to extend their vacations. Data on global travel from Airlines Reporting Corporation suggest Friday flights have some of the lowest average ticket prices. The common thread in most of these recommendations isn't what days to fly but what days not to fly: Sundays, when leisure travelers are coming home, and Mondays, a popular day for business travel.
Extend short trips into the following weekend
For cities with a lot of business travel traffic, basically any sizeable city, a round-trip ticket that returns within the same work week tends to cost more than if that same trip were extended to include Saturday night at the destination. Even though experts dn't recommend flying on Sunday if you want a cheaper ticket, many people have no choice but to travel on Sunday. So if you have to, check for early or late departures on Sunday to avoid the midday crush.
Buy tickets in advance, but not too far in advance
Recent research from Cheapair.com, an airfare tracker and booker, found that the lowest fares on average change roughly every five to six days. The best time to buy a plane ticket is on average about 70 days in advance of departure. But that number of days in advance varies constantly, and as a general rule it's best to book a flight in a sweet spot of roughly 21 days to 121 days in advance of a departure.
Take advantage of online price comparisons
The internet is such a powerful tool for booking your own travel that it's posing an existential threat to the travel agency business. But not all online services are equally useful. Expedia, Orbitz, and Priceline are industry leaders, but a little research will offer many other options, including flights offered directly on airline websites. Find three or four reliable sites and cross-compare the fares they provide.
If you have enough time to plan a trip, try setting up custom notifications to instantly receive information about price reductions. A typical fare price will change about once a week so it's good to know when a particular fare has dropped. Be prepared to jump on a price when it hits your sweet spot, especially if the planned departure is approaching the three-week mark, after which ticket prices tend to increase.
Check for "hidden city" ticketing
Sometimes booking a flight that connects in (or near) your destination city but then continues on is cheaper than a direct flight to your destination. (You take the first leg of the flight but not the second.) This method is controversial enough that in 2015 United Airlines unsuccessfully sued the website Skiplagged for helping consumers find these so-called "hidden city" bargains. This method can save you money, but keep in mind that you cannot check bags because they will continue to the final destination, and you need to make sure passengers can de-board at the connecting airport.
A general rule of thumb for saving money on airfare is to fly when others are less likely to fly. But regardless of whether you fly on or off peak season, departing very early in the morning or arriving in the middle of the night are good ways to save some money. It might be unpleasant to wake up at 4:30 in the morning to takeoff at dawn, or arrive at a destination well after midnight, but these are small inconveniences to save a couple of hundred dollars. Another advantage: shorter lines.
Let the airline pick the seat
Like baggage and in-flight-meal charges, some airlines are now making passengers pay for seat selection, often by offering discounts on economy class tickets for passengers who forego seat assignments. While this might not be ideal for families who want to ensure that they sit together, travelers can in some cases save more than $50 on a ticket if they're willing to risk a center seat.
Check online prices at different points of sale
When you search for ticket prices online, especially for international flights, try different locations in the section that asks where the retail transaction will take place. For example, if you're flying from New York to Rio de Janeiro, enter Rio as your point of sale on search engines that ask for that information, like Google ITA; that price might be lower than if you use NYC as your point of sale. Also check the price at the foreign carriers' website in the local currency; the posted price may be lower even if your credit card charges a foreign transaction fee.
Book on multiple carriers
Major commercial airlines have complex code-sharing agreements, meaning that any flight plan purchased from one airline may be fulfilled in part by another carrier. But not all carriers share codes with each other. This is where "virtual interlining" might save you money. Some search sites simplify the process of mixing and matching budget and full-service carriers that have so-called interlining agreements to handle the transfer of passengers coming to them from a different carrier. This differs from code sharing because it involves finding and buying separate point-to-point tickets on different carriers that don't have code-sharing agreements with each other.
Choose vacation destinations by ticket price
Flexible leisure travelers who don't feel a compelling desire to arrive at a certain tourist destination at a certain time of year can eke out significant savings by letting the market decide where they go. Many travel booking sites allow you to search for any destination from a specific city at a specific period of time, and then rank those tickets by price. You can also set up alerts for when ticket prices are reduced. For the adventurous, especially those willing to fly off season, this can be the most effective way to find cheap flights.
Consider airports that are further away
If you fly to Paris you have two choices: Charles de Gaulle Airport or Orly Airport. Price differences aren't likely to be significant when comparing airports within the distance of a normal taxi ride to the city center. With airports that are further away from the bustle, however, the savings could be compelling. For example, a flight to a smaller airport on Long Island could cost significantly less than flying into New York City via Newark, JFK, or LaGuardia – and might be worth the hassle of taking a train into the city.
Use credits cards that offer miles
All major credit card issuers offer cards that dish out airline bonus points or miles, and frequent travelers (for business, leisure, or both) should consider cards that offer points and other travel perks, like access to premium airport travel lounges. These cards come with and without annual fees, so do your research. If you travel a lot, a card with an annual fee might still be worth it. The longer you use the cards, the more bonuses you rack up, so start accumulating points early in life to reap greater savings later.